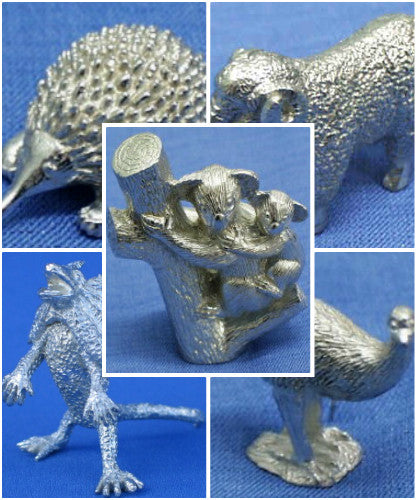 One of the products we're proudest to carry on Australian Native T-Shirts is the range of pewter figurines and belt buckles made by Aradon Pewter. 
Being an Australian owned and operated family business, we're proud to support another business that offers 100% Australian made products and it's also run by a family, just like ours! We find that Aradon really care about the product they make and the quality is excellent.

One of the pewter series offered by Aradon is the Australian Heritage range and it features scenes from the past and present including stockmen, shearers, Aboriginal figurines, swagmen and other country icons including Ned Kelly – our most famous outlaw! If you're looking for Australian bush icons, the heritage range is the place to browse.

And of course we couldn't miss the huge range of pewter Australian animal figurines – they go so well with our Aussie animal t-shirts and gifts! Both small and large figurines are made with the largest being just 10cm or so in size, the detail around the animals is amazing.

Many animals are covered including Aussie reptiles like the goanna and crocodile, birds like the cockatoo and kookaburra, unique natives like the kangaroo, koala, echidna and platypus and so much more – check out our full range of Australian animal pewter figurines here.

Another range of course is the wide range of hand finished pewter belt buckles from Aradon. Unlike a lot of the poor imitations, these buckles are actually made in Australia from pewter and the quality cannot be matched by imports that only claim to be pewter. Aradon produce Australian buckles, country designs, sporting/rodeo buckles and motorcycle logo buckles – all fully licensed.

So if you're looking to buy Australian, be sure to browse the range of pewter figurines and buckles by Aradon Pewter!