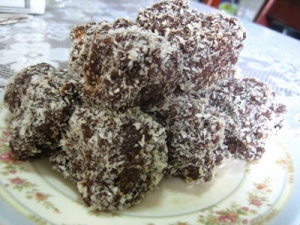 Cooking Time for This Yummy Aussie Treat is approx. 30 Minutes with 15 Minutes Prep Time.
Main Ingredients (for lamingtons that serve 15)
Melted butter to grease the pan
75g (1/2 cup) self-raising flour
75g (1/2 cup) plain flour
70g (1/2 cup) cornflour
6 eggs at room temperature
215g (1 cup) caster sugar
1 tablespoon boiling water
170g (2 cups) desiccated coconut
Chocolate Icing Ingredients
300g (2 cups) icing sugar mixture
35g (1/3 cup) cocoa powder
60ml (1/4 cup) milk
60ml (1/4 cup) boiling water
Cooking Method
Preheat your oven to 160°C. Brush a 20 x 30cm lamington pan with melted butter to lightly grease. Line the base and sides of the tray with nonstick baking paper, allowing it to overhang a little.
Sift the combined flours together into a large bowl – repeat this twice.
Use an electric beater to whisk the eggs in a large, dry bowl until thick and pale. Gradually add the sugar, 1 tablespoon at a time, whisking well each time until mixture is thick and sugar dissolves.
Sift the combined flours over the egg mixture. Pour the boiling water down the side of the bowl and use a large metal spoon to gently fold until just combined. Pour the mixture into the prepared pan and use the back of a spoon to smooth the surface.
Bake in your oven for 20 minutes or until a skewer inserted into the centre comes out clean. Turn the cake onto a wire rack, cover with a clean tea towel and set it aside overnight to cool.
Trim the edges off the cake and cut it into 15 squares.
To make the chocolate icing, sift the icing sugar and cocoa powder into a medium bowl. Add the milk and water and stir until it's smooth.
Spread the desiccated coconut over a plate. Use two forks to dip one cake square into the warm icing to evenly coat and then allow any excess icing to drip off. Use your fingers to roll the cake in the coconut to evenly coat, then place on a wire rack.
Repeat this method with the remaining cake squares in the icing and coconut and then set aside for 1 hour or until the icing sets.