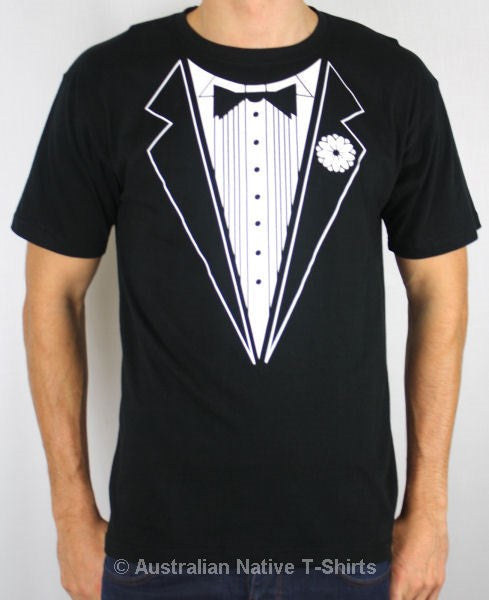 At Australian Native, we've been selling tuxedo t-shirts for years. Originally when we thought about adding them to our range we thought.. would people really wear these? It's so 80's! Would they be considered daggy (for international visitors – daggy kinda means uncool or goofy) or would people really buy them?
Well it turns out they make great t-shirts for parties, work functions, sports award nights and we've even sold them for casual weddings where the bride and groom had a wonderful sense of humour! Not to mention the baby size tuxedo t-shirt for the child in attendance (hehehe).
We've kitted our whole football teams for a trophy night, convention visitors for a Mafia party, staff members for a work party, individuals for a James Bond 007 party and so many more events. Even school formals (or proms) have had a look in because not every guy wants to wear a traditional tux.
After carrying the black and white tuxedo t-shirt for quite a period of time, we added childrens tuxedo t-shirts to the range, then womens cut tuxedo t-shirts. For the great Australian BBQ (which we all know is very formal), we added a Tuxedo BBQ Apron!
So whether you think it's daggy or it's cool.. it's a heck of a lot cheaper than an actual tuxedo – think about that next time you're attending an event where you can get away with it! View our full range of tuxedo t-shirts here.